Explorer & Pioneer Medals
**This post contains affiliate links and the Agent Academy will be compensated if you make a purchase after clicking on affiliate links.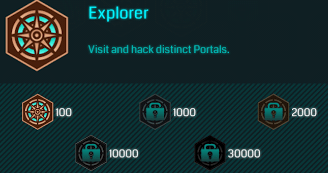 The Explorer medal is achieved by visiting and hacking distinct portals. It has 5 tiers.  Bronze (100), Silver (1000), Gold (2000), Platinum (10,000) and Onyx (30,000). So, you can see that getting Onyx is going to require a good bit of work. Not to mention some places that require paid admission, such as museums, botanical gardens, and other attractions that have big pockets of portals in them for you to hack.
The Pioneer medal is awarded for capturing unique portals. In order to count as a capture, you have to place the first resonator to the portal.
This is where the GO City comes in.
GO City is a way to save on local attractions. They have passes for many of the cities that will be part of the Ingress anomaly season as well but is not limited to those dates of course. You can visit and use the GO City anytime the attractions are open. So instead of paying for each museum or attraction separately to get in and get your uniques and hacks in, you can pay once and get in a bunch of attractions for the one low price. Not only that but on certain attractions and cities, you can get in without waiting in line. Here are a few of the cities that have the Go City Pass available, with links to the Go City Pass packages.

You can also sign up to their email list and get a 5% discount which can really help on multi-day passes!