NL-1331 Upcoming Dates
NL-1331 Event Details
Agents, you are officially invited to join us at this unique NL-1331X tour launch event in the Americas. Official Niantic Ingress gear will be available for pre-sale, and a limited amount of new Ingress store items may also be available for pre sale only. The event is free for anyone to attend.
These events are a great time to meet with fellow agents from either faction.
NL-1331 Kit Details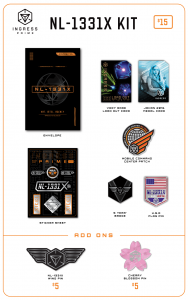 Continuing the NL-1331 flag pin series: We are introducing a new, collectible enamel wing/American flag pin. These will only be available in the NL-1331X Supporter Kits, and in very limited quantities.
2019 American flag/wing pin
2019 5 years of research medal +
Tour-specific collectible NL-1331X commemorative card
Mobile command center patch
VR load out card including the Quantum capsule and Aegis shield
We cannot issue any refunds, or ship any packs that are not picked up. Pack CAN ONLY be picked up at the event location for which it was ordered.